The top treks of Kashmir are:
There's something beautiful about the enchanting valleys of Kashmir and one of them is Basmai-Soun Valley. Being in the remote parts of Kashmir, Ganderbal and Anantnag, the Basmai-Soun Valley Trekking is famous for the beautiful views of the Himalayas, lifestyle and cultural heritage of the mountain villages and high altitude lakes. June to October are the preferred months for the Basmai-Soun Valley Trek as the valleys are carpeted with snow in June. The Basmai-Soun Valley Trekking Itinerary is mainly of 9 days covering sites such as Basmai Valley, Soun Valley, Basmai Lake, and many others. The must view sight in the whole trek is Satlanjan where 7 streams meet. The trek takes you to a gradual walk towards the hidden Soun valley with the path of alpine meadows. You will come across some local wildlife in Soun valleys like mountain goats and species of groundhogs. The trek also moves towards Kolohoi glacier which is very famous for being one of the sources of River Lidder which later on merges into Jehlum. Trekkers also go to another high altitude lake, Tarasar Lake which is a beauty surrounded by lush green grasslands and mountains and a medium ascent lake Marsar and will also camp at Sonmast valley which is termed as Shepherd valley, surrounded by beautiful meadows. The trekking ends with the trek towards Sumbal, a 4hrs. difficult ascend. The Basmai Soun Valley Trek is commonly considered as highly difficult due to strenuous walks but in return, you get to see alluring natural scenery of snow-covered mountains, high altitude lakes, beautiful meadows under your feet and also the interaction with the mountain bedouins teaches you a lot about their hard and strenuous lives. If these things strike a chord of your heart, then Basmai Soun Valley Trek Tour Package is a win-win situation for you.
Max. Altitude - 4,000 meters
Duration - 5 days
Level - Easy to moderate
The Warwan Valley trek is one of the best-kept secrets of Kashmir. The trail takes you through many untouched places in Kashmir and lets you cherish all the undisturbed beauty that it has. It is a heaven for trekkers and adventure lovers but you need to be absolutely fit for this trek. The months of July-September are the best time to hit the valley.
The Warwan Valley trek itinerary includes a drive from Srinagar to Panikhar which is a 10 hours drive. Start at 6 am from Srinagar, and witness the most beautiful villages of Kashmir. There aren't many shops on the way. Explore the village after you reach Panikhar for the rest of the day and stay the night there. Next day trek to Sumdo which is at an elevation of 12,350 ft from the sea level. After 3 hours of trek, the trail swerves around and ions up to a breathtaking little meadow where you can halt for a while and then start again. Trek to Sumdo will take around 5-6 hours. Trek to Kalapari the next day which is at 12,850 ft and will take around 1.5 hours of time. You will have to cross a number of streams and trek through a meadow. Set camp beside the stream and enjoy the gushing sound of the water in the silent Himalayas. Have breakfast in the camp and set for Kaintal via Lomvilas Gully which will take around a stunning 11-12 hours of time to reach. Set for Humpet the next day at 10,900 ft taking 6 hours of time. You have to cross a river basin and trek through the meadows and the beautiful grasslands of Sar. Come down to Sukhnai to Chaudraimanr the following days and drive back to Srinagar from there which will mark an end to your Warwan Valley trekking campaign for this time.
The Warwan Valley trek India is an ideal trek to steal some peace from today's busy schedule. So don't waste any more time thinking and go through the Warvan Valley trekking tour package now.
Max. Altitude - 4,405 meters
Duration - 9 days
Level - Challenging
Situated at an altitude of 11,100 ft., Kolahoi Glacier being the perennial source of water to major rivers such as Jhelum and Lidder, is referred to as the Goddess of Light. The journey is most beautiful which goes through green meadows, rambling banks of Lidder river and wide Himalayan valleys and also enchanting coniferous forests. The Kolahoi Glacier Trekking takes you on a circular trail, going through alpine lakes, ponds and age-old glaciers. It is one of the best short treks in Kashmir and best for those who want to trek in a terrain field which is full of tall trees, meadows clad with flower beds and clean high altitude lakes that have snow-capped peaks. Different from every trek, this trek starts with an unusual note. Start for Aru the next day via Pahalgam, here the lush green pastures and Katrinag Mountains welcome you. On the next day, you will be moving to Lidderwat which is at the left of the Lidder river. Enjoy the beautiful views of meadows as you head to Satlanjan from Liddervat. For the Kolahoi Base Camp, you will move from Satlanjan to Kolahoi Base Camp and have to climb a little higher to have view the Kolahoi Peak. Have a treat for your eyes by choosing Kolahoi Glacier trekking Tour Package.
Max Altitude - 11,100 ft.
Duration - 6 days
Level - Easy
If there ever was or is a paradise on Earth, it is here in Kashmir. The valley of Kashmir is where heaven lies on Earth. There are some treks that set aside other treks as they are certainly more special than the others. The Tarsar Marsar Trek India is one of them.
The Tarsar Marsar trek itinerary starts from your journey from Srinagar to Aru base camp which is 7,950 ft high. Depart from Srinagar by 2 pm. It is a 4 hours drive to Aru. It is on the bank of Lidder River. There are no shops around to keep everything you need by your side. Pahalgam is the last point where you will find a mobile network and ATMs. The next day start your trek from Aru to Lidderwat which is a 10 km trek taking 6 hours of time. The trail is easy with gradual ascent and easy terrain. Water sources are there at the streams. Reach Lidderwat and stay the night in tents. The next day you trek to Shekwas which is at an altitude of 11,000 ft. It normally takes 5 hours to reach, also there are enough water sources on the way. In day 4, you will reach the much-awaited Tarsar and explore Tarsar at 12,500ft. It will be an easy day with moderate ascent. Trek to Sundarsar the next day, it will be a bit difficult terrain but will take around 5 hours of time. Next day will be a hectic one as you will be visiting Marsar and then Homwas. It will be a 7 hours trek, continuous ascent to Marsar then a gradual descent to Homwas. The final day you will be trekking down to Aru and then drive to Srinagar which will mark an end to your Tarsar Marsar Trekking adventure for this time.
For beginners, the Tarsar Marsar trek is ideal but a little challenging. So don't waste any more time searching for options and check out the Tarsar Marsar Trekking tour package now.
Max. Altitude - 4,024 m
Duration - 7 days
Difficulty - Moderate
Basmai is a breathtaking hanging valley in Jammu & Kashmir and forms a beautiful cradle within the Himalayas. Perched at a staggering 4000 meters, it is shaded in the Ganderbal and Anantnag district of Jammu & Kashmir, which is wildly off the beaten tracks. The valley is towered by the lofty Kohlai Peak, while the majestic Zanskar fences the other side. This moderate level trek is chaperoned by lovely trees of Oak, Deodar, Bhojpatra, and Pine, accompanied by multitudinous species of wildlife. The northern part of Basmai houses the stunning Kohlai Glacier. As a bonus, it also introduces trekkers to the quaint lifestyle of the village locals.
The most ideal time to do the trek is Mid June to September, when the snow cover begins to melt, leaving behind a blanket of enchanting, lush greenery.
Trek Highlights:
1. One of the most offbeat places in Jammu & Kashmir.
2. Carries a backdrop of the mighty Kolahoi Peak
3. Camping by beautiful alpine lakes- Tarsar, Marsar, and Sundarsar.
There is one word from all the trekkers that Kashmir Great Lakes is one of the prettiest treks in India and why wouldn't it be? A place which is the residence of five beautiful alpine lakes and that too, you get to see them one after another without breaking your link, the view of snow patches from the mountains which gently slide into the lakes make it enticing for the trekkers. The Kashmir Trek is surely a bliss with lush green forests, stunning meadows of varying shapes and size and five captivating alpine lakes. Among the treks in Kashmir, Kashmir Great Lakes Trek is the most famous trek just because of the beautiful views it presents to you. The trekking starts from Shitkadi where you will reach from Srinagar by a 4 hrs drive. Next day you will start your journey for Nichnai via Shekdur, this is an eye-soothing journey where you will spot meadows with Pine and dense forests of Maple trees. By the end of this route, you will be able to view the majestic Sonamarg valley with the beautiful streams, meadows, and pines which is a picture-perfect scene. Day 3 will bring you the task of trekking from Nichnai to Vishnusar Lake. The whole route from Nichnai to Vishnusar Lake is a spectacle beauty within itself, who doesn't like a walk-in flowery meadows and beautiful lakes as your constant companions. Explore the Vishnusar and Kishansar twin lakes. On the next day start your trek towards Gadsar via Kishansar lake and Gadsar pass. The Gadsar pass is the highest point of the trek with an altitude of 13,800 ft. From the next day, you will be descending towards the end of your journey trekking via Satsar, Gangabal twin lakes, and Naranag.
Max Altitude - 13,800 ft
Duration - 7 Days
Level - Moderate to Difficult
This trek begins from the farthermost alpine village of Kashmir towards the north-east. The town is well-known for guides that take believers to the blessed Amaranth yatra. The trek has three high elevation lakes on its course, one being the highest lake in Kashmir at a staggering altitude of 4605m. On the trail, one encounters two beautiful, vast and lush meadows Kolahoi Pass (most astounding in Sind valley), Thajwas wildlife sanctuary, eight technical cliffs and six glacier beds.
Max. Altitude: 4605 m
No. of Days: 4 Days 3 Nights
Harmukh Valley trek is an astonishing high-elevation trail and considered as a most wonderful trek in Kashmir. Harmukh is the 4th highest peak in that valley is set with a picturesque foreground of the magnificent Gangbal lake.
Known as the Eiger of Kashmir, it was from Mount Harmukh that Thomas Montgomery, an incredible trigonometric surveyor, first found K1 and K2 Mountains in 1865. The Gangbal Lake is said to be the Ganges of Shivism.
Max. Altitude: 3700 m
No. of Days: 5 Days 4 Nights
Top Treks In Kashmir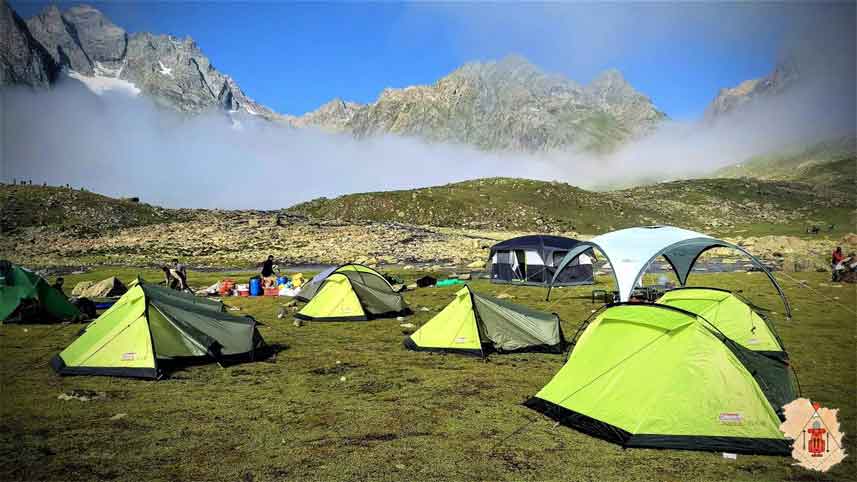 7 Days
USD 210 / INR 14750/-
Location : Kashmir
Difficulty : Moderate
Best time : July-Sept
7 Days
USD 185 / INR 12950/-
Location : Kashmir
Difficulty : Moderate
Best time : July-Oct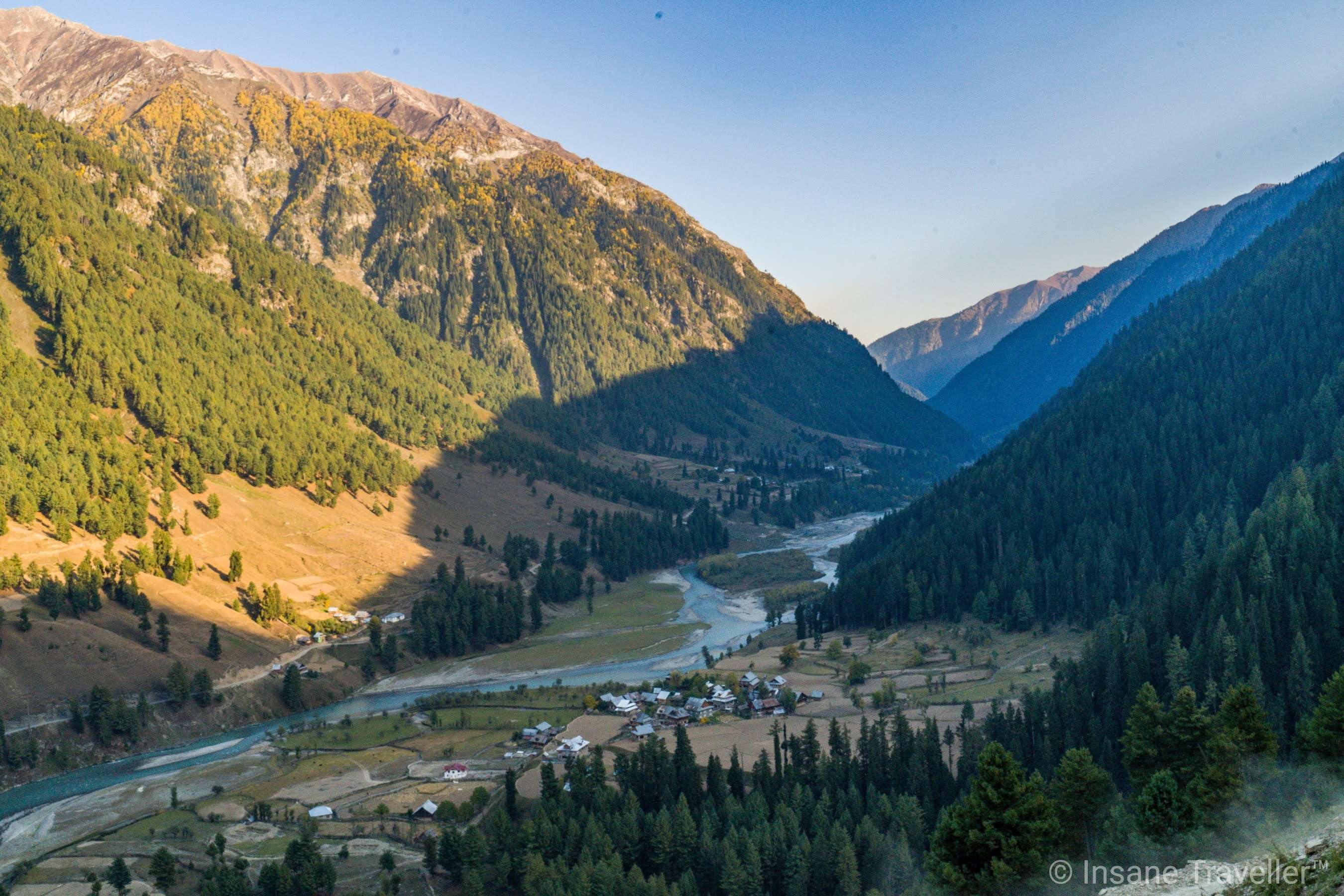 8 Days
USD 500 / INR 36450/-
Location : Kashmir
Difficulty : Difficult
Best time : July-Sept
All Treks In Kashmir
Why Trek in Kashmir?
Amidst its grand history of militarized zones, all the skirmishes at the borders, upland warfares, internal civilian outcries, Hindu exodus, and seemingly endless insurgencies, lays an ambivalent valley of Kashmir. Well known as paradise on Earth, Kashmir can be said as one of those states in the whole of Asia, which have suffered the most disturbance in all the years of the Indian subcontinent's history because it is one of most beautiful places on Earth, amongst the minor other reasons. The magnificent Pir Panjal and the Greater Himalayan Ranges of the Kashmir valley, have witnessed not only the area's breathtaking beauty but also its ugly realities. Till middle 1900s Kashmir was just a valley Kashmir, but today the word denotes, the whole wide area of Jammu and Kashmir and it's broken shares, some in Pakistan, rest in China. As we all know, Kashmir is a highly disputable and debatable topic in today's world. Just the name of the state is enough, to remind one of all its outward peacefulness and internal disturbing violence.
Kashmir also has a long and highly unresting history of religion, although the Valley itself seems to have no religion but one of motherhood. It often reminds one of that conventional helpless mother, whose children are still an adolescent and the mother knows, the umbilical cord has been cut already. Thus, there's no choice but to wait and let them mature. The region practices, diverse number of religions; Hinduism, Buddhism, Sikhism, Islam, and Christianity. You can thank the various conquers, empires and rulers of Kashmir for that. Kashmir's natural boundaries have grown wrinkled seeing the rule of great empires their rulers like Asoka, Karkota, Shah Mir, Akbar, Ahmad Shah, Ranjit Singh, and later the British rule.
Even after all its tragic days, the Valley of Kashmir and in fact, the whole region beyond it, remains as one of the most enchanting places that nature has crafted on Earth. From its kaleidoscopic landscapes to its 'celestial' embellishments of mountains, lakes, streams, flora, and fauna etc, Kashmir has remained a treat to the eyes, calming feast to the chaotic hungry soul and a "Heaven on Earth". Not only this, it enriches the whole experience of tourists visiting India on an expedition, with its endless beauty. It remains a major attraction for both kinds of trekkers, the professionals, and the novice ones. If one has come to visit Kashmir, despite its insurgencies and war-like state, the travelers have to endure a thrilling and calming mountaineering trip. The ranges surrounding the area are not only challenging but also turn out to be extremely appealing because of its lush green landscapes, the gigantic rough mountains, and thousands of amazing pictures to capture for a lifetime. Kashmir treks are wonderful when done as solo as it turns out to be the best way to go on a journey which will be internally transforming amidst all the lovely sceneries. Other than this, the trips on various Kashmir peaks can also be awfully excruciating yet enthralling. They'll be challenging because of there sharp ridges, rocky terrains, narrow routes, and some of them will require maneuvering skills too.
Kashmir thus has become an increasingly famous tourist destination. Its adventuresome aura and growing mountaineering demand have made it a must-visit once in a lifetime pilgrimage journey for passionate trekkers. Not only this, people who even visit the state like a vacation tour, with no prior mountaineering experience, too tend to go for a trek or hike because eventually, that's the best part of any of these northern states with Himalayan ranges beautifying them. The simpler ones are good if one is a novice. Some of these are, Pahalgam which is rich with its sumptuous greenery of vast meadowlands and River Lidder. Then there are also the remote peaks one can see from the peak of Pahalgam, like ranges of, Amarnath, Machaoi, Sirbal and thousands of others. Further extending the list of easy family trip trails, there are various more treks like Gulmarg, hike at Khilanmarg and also trek to Alpathar Lake. All these three are just a few kilometers away from each other. Then there's also another popular short trek in Kashmir, which is from Gulmarg to Ningel Nallah. Certain tougher ones are, Tosamaidan and various other. Then the ultimate ones are like Kashmir Great Lake Trek and Aru-Kolahoi Glacier trek. Some of the explorers climb Kashmir mountain ranges for the purpose beyond trekking or hiking. They tend to study Pir Panjal, Karakoram, Domial and various ranges for other scientific or historical reasons.
Most of the treks in Kashmir are just four-seven days long and are mostly moderate. Almost all of the trekking and hiking regions of Kashmir are tagged under, Alpine, Solo, and Offbeat because each of them is a bit challenging, close to nature and obviously in a high altitude. All these excursions are above 11,000 ft and some are above 15,000 ft. Few of them can be best visited in summers or between March to October, like the Kolahoi Glacier trek, which is at 11,000 ft. This glacier melts during warm summer days, adding into the beauty of the whole scenery. Trekking in Kashmir, weather-wise, is highly varied. Some the expeditions are better during the months of monsoon, others are best during the months of autumn. Nevertheless, the region in itself remains extraordinary in all the season and months. Every season brings in its own distinguishing touch to the landscape of the mountains, plants, lakes, meadows, ravines, and wilderness, shading it in its own shades.
In recent years, Kashmir Alpine Lake treks have encountered sudden attention by the various mountaineering sites, media, and the virtual world of internet. In fact, these famous trails, continue to maintain their charm between the world trekkers even in recent years (2018-19). High-altitudes are becoming an attractive destination to detox and connect to nature. Many popular outdoor sports or particularly, trekking adventure sites have listed few of the Kashmir alpine, offbeat or solo treks under their top lists. All these treks gain a central seat in trekking lists of Kashmir. Overall, there are many undiscovered pathways in Kashmir for its various peaks, and thus, there are few which are fully discovered and have been made as simple tourist trails.
Trekmunk provides almost all the famous expeditions of hiking and trekking in Kashmir. All of these excursions are for those, who love to go on mountains, wish to spend time near nature, detox from chaotic world around them, take a picture of the most eccentric sceneries, explore the remote valleys and wish to introspect, retrospect and fall in love with the one's true self again.