The top treks of Uttarakhand are:
Pangarchulla Summit Trek lies somewhere between easy and difficult treks. If you have a little bit of trekking experience then this trek will be the most suited for you to up your level. Even if you are a newbie, but determined and not reluctant to working a little hard then Pangarchulla Summit Trekking will open up a whole new world for you.
Pangarchulla Peak Climbing will include roving through steep paths and gorgeous meadows filled with oak trees and rhododendrons. As you move along a snow-laden trail the views of other Garhwal Himalayan mountains will keep you company. Reaching the top will be all that you imagined. The thrilling journey will be rewarded with sceneries of snow-clad mountains, stretching all around you. Pangarchulla Summit itinerary has a carefully curated routine. The trek starts from Dhak, where you will reach from Joshimath. Joshimath, in turn, is reached by a 10-hour journey from Dehradun via a car or a bus. From Dhak your adventure will begin and with the right kind of effort, you will make it all the way to top and revel amidst nature at its very best.
This trek can be done throughout the year but wintertime is more recommended as the snow will make your trek much more thrilling. Also, unlike other treks that go through snow-laden trails, this one is basically risk-free. Yay, adventure and thrill without the risk of losing your life, even strict parents might agree for this one. For regular trekkers, this trek will also train you for other difficult Himalayan Treks. So, if you want to cover all the important Himalayan peaks Pangarchulla Trek is a must for you. Check out the Pangarchulla Summit Trekking Tour Package now because this Trekking expedition in Garhwal is not the one to take a rain check on.
Max Altitude: 15,070 ft.
Duration: 7 days
Level: Moderate
Amongst the most challenging and unexplored trails in Uttarakhand, Auden's Col is a high altitude mountain pass that links Gangotri III and Jogin I. Named after JB Auden who was the first explorer of the pass, the trek stems from Gangotri and extends right up to Kedarnath, the most revered pilgrimage site in India. The trek is arduous and forms a bridge between Khatling glacier and Jogin I glacier. The trail is rugged and challenging, snaking through moraines, mountain ridges, boulders, and loose rocks. It puts your mental and physical strength to test. The trek may be arduous, but the views from the top are worth an arm and a leg (not literally, though)! Behold the stellar views of Kedar Dome, Gangotri group, Jogin group and Bhagirathi group of peaks in a panoramic sprawl!
Max. Altitude - 5,400 m
Duration - 15 days
Level - Ultimate (technical)
Highlights
1. The lofty peaks of Rudragaira, Kedar Dome and the Jogin group shadow you throughout.
2. The descend from Auden's Col to the crevasse laden Khatling Glacier is a mind-boggling experience!
3. The trek is ideal for young, beginner mountaineers.
Devkyara Trek has been recently declared the "trek of the year", which is reason enough to consider this one. You will get to be a part of something new and will get to explore a place before it becomes way too commercialized. Till now Devkyara has only been part of the rituals of villagers living nearby, but now the tourism department wants this gorgeous place to be discovered and soon all the necessary provisions for trekkers will be made available.
Devkyara trekking will be a moderate one, it will be fit for people who have tried their hand at trekking before and want to take it up a notch. Devkyara Bugyal is 12,763 ft. above sea level. Filled with grasslands and forests, the meadows are an absolute sight for eyes.The trek will take around 8-9 days, and the journey will take you through Himalayan villages giving you a chance to mingle with the natives. Major attractions include Obra temple and Babra campsite, definitely amongst the best places to leave your monotonous lives behind for a while. When you reach the top of Devkyara you will be welcomed by snow-capped mountains ahead and lush grasslands behind, contrasting yet equally mesmerizing views.
Devkyara Trek Itinerary starts from Dehradun and the trek then starts from Sankri. Another interesting fact about Devkyara trek is that it can be done in both summers and winters, how amazing, right! May, June, July, September, and October are months best recommended to go on this trek. This trek is perfect for people who want to experience something new, and exploring something that is not yet famous is another kind of adventure. Being among the first ones to witness the beauty of one of the least explored places in India has its own charm. So, don't waste your time and book a Devkyara Trekking Tour Package before it becomes a usual thing.
Max Altitude - 4,100 meters
Duration - 10 days
Level - Moderate
Dhumdhar Kandi Pass Trek is for the people who want to challenge their limits. Not for weak-hearted, this trek will be demanding and difficult. That being said this trek will also be among your life's most beautiful and satisfying experiences. This pass connects Bhagirathi and Tons Valley. Dhumdhar Kandi Pass Trekking will take you through steep roads, starting with lush and green meadows and then on snowy paths as you move forward. The highest peak rises up to 18,045 ft, you will reach Yamunotri after completing the climb.
Another aspect that may appeal to your aesthetic senses is that the path of this trek is filled with waterfalls and lakes. The glaciers surrounding this pass feed Bhagirathi and Yamuna river, making the trek all the more special. Green meadows, snow-capped mountains, and sparkling waters, all the pleasing elements of nature present together! Could anything be better than this?
The trek takes around 13-14 days and the Dhumdhar Kandi Pass Trekking Tour Package will surely leave you spellbound. Proper gear suiting high altitude will, of course, be required. And you probably already know that good shoes make a good trekker. If you check out Dhumdhar Kandi Pass Trek Itinerary you will see that the trail of the trek starts from Sankri, to not too much-explored bugyal (meadows) of Uttarakhand, leading to Ruinsara lake, and finally to the snowy peak of Dhumdhar Kandi Pass. Also, all these gorgeous scenes will be just perfect for your Instagram feed, we all know how important that is. Training yourself before a challenging trek is always a good idea, so get in your training shoes and get going. The next step would be to book your trek so that you can get high on adventure, which is only the best kind of high.
Max Altitude - 5,490 m
Duration - 12 days
Level - Challenging (Technical)
Are you tired of your everyday, boring life? Have your means of escaping reality become too repetitive and uninteresting? Are you looking for some new outdoorsy hobby? Well, look no further and fret no more because Dodital Darwa Pass Trek is exactly the kind of thing you want.
The best part about this trek is that Dodital is one of the most beautiful freshwater lakes there are. The lake rises at an elevation of 10,121 ft. After that, the trek takes you to Darwa Pass which rises up to 13,780 ft. This almost too-good-to-be-true trek is perfect for beginners. If you are feeling worn out staying at Dodital and enjoying the lake is always an option. This trek will also appeal to those who find Indian Mythology interesting as Dodital lake is among the 12 holiest lakes in India. A temple is built there for the same reason as well.
Dodital Darwa Pass Trek Itinerary will show you an amazingly planned trek that takes around 4-5 days. The trek starts from Sangam Chatti, where you reach from Uttarkashi via a bus or a car. The trail of the trek will lead you from valleys and lakes to a mountain top with stunning scenery. The best time for this trek is summers, April to June, as you will get to witness mother nature in all its glory because of all the greenness that will be covering the whole trail. However, if you are not afraid to delve into more adventurousness and want to go through paths covered with snow, winter trekking will be more suited for you. Check out Dodital Darwa Pass Trekking Tour Package now. Because if you are new to the world of mountain explorers Dodital Darwa Pass Trekking will probably prove to be a life-altering decision for you, in a good way of course. And even if you are not a newbie you already know the feeling of exploring a new place and this trek will not let you down.
Max. Altitude - 4,150 meters
Duration - 6 days
Level - Moderate
Situated at the near border of Uttaranchal, Himachal Pradesh and Tibet, Borasu Pass Trek is known for its wildflower shrubs, villages lost in time and hiking on glaciers. The months June, September, and October are considered as preferable times for the Borasu Pass Trekking. The Borasu Pass Trek connects the Tons river valet with Baspa River Valley. The 9 Day Borasu Pass Trek Itinerary starts from arriving at Sankri from Dehradun, a 7-8 hours journey. The next day, you will move to the first part of your trekking from Sankri to Taluka. From Taluka, you will be trekking to Seema through thick forests of Chinars, Walnuts, Willows and few waterfalls along the way. The 14 km trek from Seema to Har Ki Dun is filled with adorable coniferous flora, fields, and pastures with huts. Via Kalkatti Dhar, you will be reaching Har ki Dun through beautiful meadows campsites. As you move from Har ki Dun to Moninda Tal, Hata peak and Swargarohini Peak are prominently seen from here. This will be your campsite and you can bask in the beauty of snow-capped mountains with lush green meadows surrounding you and the streams running near your camps. The next day is the rest day with acclimatization before the climb to the pass with also a learning session. The next day you will start for your Borasu Pass Trek in the early morning as the trek is a little difficult. You will have to walk a distance of 8 km to reach the pass. This will be your campsite for two days, generally, these two days will be divided for the wilderness around and for the civilization of the Chitkul village. If you love adventures, a little difficult trek then this Borasu Pass Trek Tour Package is just for you.
Max. Altitude - 17,224 ft.
Duration - 7 days
Difficulty - Difficult
The Kalindi Pass Trek is considered to be the mother of all the trek having the max altitude of 20,000 ft and with a duration of 18 days. This trek gifts you with a huge rush of adrenaline, great views of Himalayan mountains and beautiful nature. It has some spiritual connection because of the Gangotri river and the Gaumukh which is the birthplace of the Ganges river. The Kalindi Pass Trekking Itinerary starts from Delhi with a 6-7 hrs drive to Rishikesh which is at a distance of 230 km. Rishikesh also holds an important place in religion and gives you the entrance to places like Badrinath, Kedarnath, Gangotri, and Yamunotri. If you want to explore some more of this place then there are temples like Bharat Temple which is the oldest temple, some Ashrams and Nilkanth Mahadev which is considered as the place where Lord Shiva drank the poison churned out of the cosmic ocean. On Day 3, ride a distance of 170 km. to Uttarkashi. Here you can visit Nehru Institute of Mountaineering (NIM) and Museum, a gateway to many trekking expeditions. Drive 3-4 hrs. on Day 4 towards Gangotri, a holy place where Goddess Ganga descended from the heavens. You will also witness a beautiful Gorge and the shrine of Gangotri which is situated at an elevation of 10,499 ft, covered with pine and deodar trees. Next day, trek to Bhojbasa with a flowing river Bhagirathi as your constant companion along the trekking journey. Bhojbasa, which is at an altitude of 12,440 feet and is full of beautiful Himalayan views, snow-capped mountain peaks. In the next few days, trek to Kalindi Khal Base via Nandanvan, Vasu ki Tal and Khara Patthar. On Day 10, you will be going on Kalindi Pass Trekking, which is at an elevation of 19,512 feet. Move to Raja Parav on the same day. Next, you will be visiting some sacred places of the trek like Badrinath, the temple which is an abode of Lord Vishnu. Joshimath, the religious center established by Adi Shankaracharya. If you really want to have the taste of adrenaline rush and the sense of spirituality, then Kalindi Pass Trekking Tour Package is here for you.
Max Altitude - 20,000 ft.
Duration - 18 Days.
Difficulty - Ultimate
The kedartal trek is often considered as a difficult trek because it requires a good amount of fitness to trek on its glacier surface. There are many treks which give us mountain views just like Kuari Pass where you see mountains from the very first day or Kedarkantha giving you views of snow-covered Himalayas but Kedartal trek leaves all of them far behind when it comes to mesmerizing views of mountains like Mt.Thalaysagar, Mt.Bhrigupanth, Manda Parvat, Mt.Jogin and Mt.Gangotri in front of you in their majestic glory. The kedartal trek is an ascent towards the glacial Kedartal Lake which makes it a little difficult for the first-timers. The route is fascinating with a trail through pine forests and alpine high altitude pastures. You might spot some mountain species of sheep and bharals and the camping sites are beautiful with the mountain views in the background. The Kedartal Trekking itinerary begins by reaching Gangotri. Once you cross Uttarkashi, the drive to Gangotri becomes thrilling as the route becomes narrower and the forests around you become denser. During May and June, you can spot many pilgrims at Gangotri for the Chardham Yatra. Day 2 will be your acclimatization day at Gangotri. On day 3 trek from Gangotri to Bhojakhark, the path is mostly rocky and as it will be your first at the trek you can face some difficulty regarding your stamina. The Bhojakharak campsite is surrounded by mountains, mist and pine forests which give it a scenic view. The trek from Bhojakharak to Kedar Kharak is simple with meadows touching your feet, the 4-5 hrs trek will be paid off with the exceptional view of the sunset at Kedar Kharak. Next day you will move from Kedar Kharak to Kedartal and return to Kedar Kharak. An 8 hrs trek will take you to an altitude of 16,116 ft and gives you majestic views of Mt.Thalaysagar and Kedar Tal lake which is soothing to watch. The kedartal trekking tour package is a must.
Max Altitude - 16,116ft.
Duration - 7 Days.
Level - Moderate
Panpatia Col Trek is the kind of trek that will leave you breathless, literally. Panpatia Col lies between the much-fabled peaks of Badrinath and Kedarnath. It was only 12 years ago, in 2007, that a trekking trail was finally discovered on this peak. The fact that this trek has not been attempted by many explorers is interesting for sure, but this fact also raises the difficulty level of this trek. Amongst one of the hardest treks in Garhwal Himalayas, Panpatia Col Trekking is only for experienced trekkers. Acclimatization is a must, and hence, people who have some experience of getting suited to higher altitudes will be able to go for this trek.
Proper mountaineering gear will be required for this trek, so make sure what the Panpatia Col Trekking Tour Package is providing so that you can make arrangements for the equipment that will not be available. Now, the caution aside, this trek will be thrilling, and exhilarating, and strenuous, and utterly delightful. An, almost, out of this world experience, this trek will take you through trails filled with beautiful, white snow, colorful flora of Garhwal Himalayas, and lustrous lakes. All through your journey, you will see some of the major peaks of Garhwal Himalayas rising gloriously. And of course, the view from the top of the peak will, without a doubt, be one to die for (not literally).
The best time to go for this trek is during summers because winters will make this trek almost impossible to attempt. The trekking expedition starts from Badrinath, where you get to from Joshimath. And, Joshimath is reached from Haridwar or Rishikesh. If you are ready to be a part of something extraordinary stop hesitating and check out Panpatia Col Trek Itinerary right away. This trek will challenge you and test your endurance in the most amazingly vigorous manner. No pain no gain, right; find out if you are as tough as you think you are.
Max Altitude - 17,258 ft.
Duration - 13 days
Level - Ultimate
The pass is situated at the Kumaon Himalayas at Uttarakhand. It is located between the Nanda Devi and the Nanda Kot peaks. The pass connects the Pindari Glacier to the Milam valley. The Pindari glacier forms the main tributary of the river Alakananda which further joins river Bhagirathi in Devprayag to form the holy river Ganga.
The Traill's pass trek itinerary consists of arriving at Lohakhet which is a small and beautiful village. Next day trek to Khati village of Bageshwar district. Lots of greenery and sparse population will make you notice its natural beauty. After your morning breakfast, trek for Dhakuri pass which is 6 km away from Khati. Trek along the trail to reach Dwali the next day which is situated at an elevation of 8,458 ft above the sea level. In day 5, cross the frozen stream and witness the Himalayan forest as you climb up the trail to reach Phurkiya. Trek to the base camp the next day by following the river Pinder to its source. You will be crossing thick forests of Rhododendrons and oak trees. Stay the night at the camp surrounded by Pinderi Glacier, Mt Changuch and many other peaks of the valley. The next day you will trek to Sura Kharak and Takhta Kharak the following day. It is an open meadow or an advanced base camp. Next day you will be trekking to Camp near Rock wall which is at 15,748 ft. You will have to do an 820 ft of rope fixing and face steep climb on a rocky patch to reach a small plateau where you will set up camp one. Trek to the Ridge camp the next day and the Lake camp the following day to the Lawan glacier camp over Traill's pass and camp on the other side on the Lawan. Then slowly descent to Martoli village and Bogudiyar to Lilam and the beautiful Munsiyari. Here you Traill's pass trekking campaign gets to an end.
So if you think you have what it takes to go on this breathtaking Traill's pass trek check out the Traill's pass trekking tour package today.
Max. Altitude - 5,312 m
Duration - 20 days
Difficulty - Technical; Challenging
If you are an adventurer at heart who wants to experience raw grandeur of a Himalayan pass crossing and have a knack to see the myths related to the Swargarohini with your own eyes then Bali Pass Trekking Tour Package is just for you. Located in the heights of Garhwal Himalayan Region and connecting Har ki Dun valley with Yamunotri, Bali Pass gives you a 360-degree panoramic view of Kalanag at 20,954 ft, Bander Punch 20,720 ft and Swargarohini group of peaks at a maximum elevation of 20,510 ft. The preferable time for Bali Pass Trek is mostly June as you can have the pleasure of seeing abundant green, breathtaking mountain ranges and the generous amount of snow which makes the whole Bali Pass Trekking more enjoyable and interesting. The Bali Pass Trek Itinerary consists of 6 days journey covering points like Sankri-which is famous for its mini markets and wooden roof houses and the place which provides you delicious local food, Taluka- the place to see snow-clad mountains, trekking from Chilud-dhar which is home to many rare species of trees, birds, and animals to Devsu Bugyal, Ruinsara Lake- the place which is believed to have some stories of the time from the Mahabharata, Bali Pass Base Camp, Yamunotri- a place of worship and place of hot springs, and lastly Damnai Forest. The ancient villages of Gangad and Osla are captivating not only with their cultures and folklore but also with the fine trees of Oak, Walnuts, Willows, and Chinars. There are some things in the trekking that will make your whole journey remarkable just like, the lush meadows in the Dev Thach with the Swargarohini and Kalang in the background, the special glacial lake- Ruinsara, the trail of alpine flowers along the line of Ruinsara Lake.
Max. Altitude - 4,950 m
Duration - 8 Days
Level - Difficult
Kedar dome is one of the highest peaks in the Gangotri group of Garhwal Himalaya. The route which is taken for this trek, Northwest Flank is still the same which was taken by the Swiss Team in 1947 when they first climbed Kedar Dome. It is an enchanting art of nature and holds a prominent place in Hindus beliefs - as the peaks name is that of Lord Shiva. Though high, Kedar Dome Trek is an easy climb requiring not a serious mountaineering skill. The best seasons for Kedar Dome Trekking are May, June, September, and October. The trekking starts by reaching Dehradun. Reach Gangotri on the same day with 10-12 hrs long drive. Take part in the Ganga Aarti which will enhance you spiritually and mentally. Day 2 will your acclimatization day at Gangotri. On day 3 you will move Gangotri to Bhojbasa with Bhagirath river as your companion. This route will take through ChirBasa, the forests of Chir and Pine, have the pleasure of seeing beautiful views of Bhagirath peaks and trek through landslide-prone areas. This will also open for you the views of beautiful snow-capped mountain peaks. With a 2 hrs of trekking, you will reach Tapovan. Don't forget to see the huge peaks of Mt. Shivling, Mt. Meru and Bhagirath and also the meadows below the Mt. Shivling. Day 5 will be your acclimatization day at Tapovan. Move to the Kedar Dome Base Camp the next day. From day 7 to day 14 you will head towards Kedar Dome Summit. If you want to have something high to climb but a little easy, then Kedar Dome Trekking Tour Package is just for you.
Max Altitude - 22,441 ft.
Duration - 21 Days
Difficulty - Ultimate
It is a hidden holy glacial lake situated 22 km away from the popular Badrinath called the Sanopath Lake. Situated at the base of the legendary Nilkantha peak. The best time to visit the lake is in the month of May-June if you want the weather to be less chilly and enjoy the autumn up there, but if you want to trek in the winters and enjoy the clear sky, then the best time to trek is in September-October. There is a frequent change in the sceneries in the short distance of Sanopath Lake Trek from Badrinath.
The Sanopath Lake Trek Itinerary starts from arrival at Joshimath. It takes around 10-11 hours to get there from Dehradun. Explore the local bazaar of Joshimath after reaching in the evening. The next day will be a drive to Mana going alongside the Alaknanda River. Stay at Mana for the night and get acclimatize. The next day will be an easy walk up the Alaknanda river towards the Somtoli meadows. On your way up you will be witnessing the great Vasudhara falls standing 400 ft high and reach Laxmiban the same day. The next day will be challenging as the trail gets steeper, but as you go up the valley, views of the mighty Nilkanth, Balakun, and Chaukhamba opens up. You will be camping at Chakrateerth for the night. Next day's trail will be short as well as comparatively easy, you will reach the Satopanth Lake and see the gorgeous blue triangular lake. The lake will remain hidden until the last moment, you may even trek a few kilometers above the lake to have a better view of the Satopanth glacier. After spending some time at the lake you will return to Chakrateerth and stay there for the night. Next day you will reach Somtoli and camp there for the night. Finish your remaining descent to Mana the next day and drive till Joshimath from where you will go back to Dehradun the following day. Overall the Satopath Lake Trekking is a life experience.
The Satopanth Lake Trek India offers a variety of opportunities, so what are you waiting for? Check out our Satopanth Lake Trekking Tour Package right now and experience a dream trek.
Max Altitude - 4,600 m
Level - Moderately difficult
Duration - 4 days
Calling out all the Hindu Mythology aficionados, Gaumukh Tapovan Trek is just the thing you might be looking for. Goes without saying that all the thrill seekers are welcome as well because the trek to Gaumukh Tapovan will satisfy your hunger for adventure.
The highest peak rising up to the height of 14,600 ft, this trek will take you from Gangotri to Gaumukh and then all the way up to Tapovan. There you will be able to enjoy the sight of Bhagirathi peaks standing gloriously. Gangotri glacier is where the holy Ganges originates. Gaumukh, translating to cow's mouth, paves the path for the river Bhagirathi which later becomes the Ganges. We have all heard stories growing up about how the Ganges became the source of life for people. Even now people believe that one's soul can be cleansed with the holy water that flows through this river.
Exploring a place so deeply rooted in our culture and traditions; it does make a good argument in favor of this trek. Tapovan Gangotri trek which can also be called Tapovan Nandavan Trek will give you a chance to explore this place dripping with mysticism and spirituality. Before you start Gangotri trek you will have to get acclimatized in Gangotri. Trekking in Gangotri Glacier will be full of strenuous activity, but that's what explorers live for, right. The whole trek takes around 8-10 days, and during these days you will make memories of your lifetime. This Gangotri Glacier Trek will let you witness the mind-blowing beauty of the snow-capped mountains like Mt. Shivling and Mt. Meru. From Tapovan, after you pass through the thriving greenery of Gangotri, the beauty of these peaks will be utterly mesmerizing.
While Gangotri Tapovan Trekking in Garhwal is of a difficult level, beginners who think they might be up to the task can definitely apply. Just be prepared for a hard journey, also equally captivating and spellbinding, and you will not regret it.
Max. Altitude - 14,202 ft.
Duration - 8 days
Level - Moderate
Nanda Devi, the second-highest mountain in India, constitutes a pair of massive peaks, namely Nanda Devi East (7,816 m) and Nanda Devi West (7,434 m). The Nanda Devi East Base Camp trek affords unmatched views of the two peaks and is as close as one can get to their beauty. Beginning from the beautiful settlement of Munsiyari, the trail snakes through dense bamboo forests, verdant alpine meadows, rustic villages, and some of the deepest gorges in the country! If luck favors, the trek may also reward you with an extremely rare glimpse of the Himalayan Musk Deer, and Snow Leopard. It also introduces trekkers to the culture of the Johari Tribe, which are native to Munsiyari.
Level - Moderate to difficult
Max. Altitude - 3,900 m
Trek Highlights:
1. Insanely beautiful vistas of the Nanda Devi and Panchachuli peaks.
2. Spotting of the rare Himalayan Musk Deer, and Snow Leopard.
3. Trek through some of the deepest gorges in the country
Weekends are such precious days when you are working full time. While the idea of lazing around for two days doing absolutely nothing seems like an obvious and relaxing option, why not try something different? We have a perfect trek that will leave you feeling rejuvenated and more connected with your inner self.
Nag Tiba Trek is very well suited for beginners and for those who want to experience something refreshing without having to use any of their office leaves. The peak is situated in Uttarakhand along with others of Nag Tiba range. Nag Tiba Trek in Uttarakhand will take you through green, grass laden paths and dense forests, with flowers blooming all around you during summers. However, for a more beautiful journey winter trek is recommended as the whole trail of the trek will be covered with snow. So, if you are someone who enjoys snow-laden tracks then Winter Trek in Uttarakhand is the thing for you.
The trek starts from Panthwari, which is just four hours away from the Dehradun railway station. From there you venture into a journey filled with gorgeous landscapes, and when you reach the top you get to see the mountain ranges of Gangotri, Bandarpoonch, and Kala Nag. For those who want to make the trek a little challenging, months from December-March are best. There will be ample snow during this time, and snow fights are, without a doubt, always fun.
Another thing that might make you consider this trek is that you won't have to leave your children behind (if you have any). This trek will be the ideal way to introduce them to the glories of nature. So, take some time off from the rigid regularities of your life and discover an exhilarating and stimulating environment. This tiny trek will definitely give you the strength to bear another week of your job.
Max Altitude - 9,910 ft.
Duration - 2 days
Level - Easy
It won't be wrong to term Deoriatal Chandrashila as the spot of birds and also a spot to have a look at the Himalaya's spring color vibrancy. Deoriatal Chandrashila presents a rush of adrenaline with the perfect blend of vigor. The place loved by the bird watchers gives you beautiful natural scenery of snow, rhododendrons and various species of birds. This place also holds a place in the myth of Mahabharata of the five Pandava brothers; once thirsty, they had come to the waters of Deoriatal and faced a test of wisdom. The Deoriatal Chandrashila Trek is opted in the months of March and April as the forests of pines, oaks, and maples are blooming in these months. With flawless skies and a revitalizing breeze, this trekking expedition will allow you to breathe in its stunning landscapes at its best in the months from March to May. With the pleasure of bird watching, you will be able to witness the grand summits during the Deoriatal Chandrashila Trekking. The 5 days trek starts from a small and quaint village called Sari which is situated at a distance of around 200 km from Rishikesh in the Rudraprayag district of Uttarakhand. From Sari to Deoriatal. The Deoriatal Lake appears to be a magnificent sight with the Himalayas in the background and then trek through Sylami, Baniya Kund. See the beautiful meadows turning to snow on your way to Chopta then trek to Chandrashila. The trek to Chandrashila opens the door of Tungnath temple, the temple of Shiva for you which gives peace to your soul and strengthens your being spiritual. That's how your 5 days Deoriatal Chandrashila Trekking Itinerary looks like.
Some salient features of the trek: A spot of various species of birds like Himalayan Monal, Snow Patridge, Himalayan Woodpecker. Blooming forests of Oaks, Pines and Maples and trees of Rhododendrons of red and pink colors are a delight for the eyes. Shiva Temple- Tunganath Temple. Sounds good? Then Deorital Chandrashila Trekking Tour Package is a must for you.
Max Altitude - 4,1460 m
Level - Easy
Duration - 5 days
It is only here where you can find the extremely rare Blue Primula which is the most beautiful flower of all Himalayan flowers. It can be found from mid-July to mid-August. The valley lies 5 km from Hemkund which is at 14,100 ft high. It is an important pilgrimage for both Hindus and Sikhs, as Hemkund has a Sikh Gurudwara and a Lakshman temple built on the side of the lake.
Your trek to valley of flowers begins when you start your journey from Haridwar to Joshimath which is at 6,200 ft and takes around 10-11 hours to reach. Take all the money you need at Joshimath as it is the last ATM point and also the last point to communicate with your loved ones as there won't be any more network beyond this point. Next day drive to Govindghat-Pulna and then trek to Ghangharia which is at 9,800 ft. It will be an easy hike with a gradual ascent along the river path. On day 3, you will be pushing to Valley of Flowers and then come back to Ghangaria. It will take around 7 hours and the inclination will be uneven till the valley of flowers. Day 4 will be another hectic day worth 7 hours of trekking as you will visit Hemkund Sahib and getting back again to Ghangaria. There will be a mule ride service to Hemkund Sahib but it is not advisable unless necessary. Grab a hot lunch at the Gurudwara langar. You could see the attracting Brahma Kamal and the Himalayan blue poppy while trekking to Hemkund Sahib. The next day come down to Govind Ghat and then drive to Joshimath which will take around 5 hours of time. You can also go to Badrinath from Govind ghat if the weather allows as it is a landslide-prone area. End your valley of flowers trek by returning to Haridwar and depart home. You will reach Haridwar at around 7 pm.
If you are a beginner, you still can go for this trek. Seeing the Valley of Flowers is absolutely magical. So check out the tour packages and enjoy a once in a life experience.
Max. Altitude - 14,000ft
Duration - 6 Days
Rupin Pass Trek is the kind of trek that will give you a glimpse of nature at its best. While we all like to revel in the natural beauty of mother earth, this trek enhances the feeling exponentially. No wonder it is so famous among trekkers. Though the trek starts in Uttarakhand most of its trail is in the Himalayan region. Rupin Pass Trek in Uttarakhand has got it all. Traversing through meadows and forests is just one part of the trek, though do not underestimate the beauty of these green tracks. Other than the grasslands your journey will be filled with waterfalls and the three-stage water fall of Rupin will be something to look forward to. And when I say waterfalls, I do not mean 4 or 5 of them, throughout the journey you will get to see hundreds of waterfalls. Sounds so exciting, right!
But wait, not yet done with listing the attractions of this trek. During this trek you will also get to see hanging villages; they are situated at the edges of the mountain and thus appear to be hanging. You will pass over many snow bridges and the pass crossing will be such an eccentric experience that you will never be able to forget it. From the top, you will see the stunning Kailash Peak standing in front of you gloriously. Rupin Pass Trek though not an easy one. Sufficient experience along with a top-notch fitness level is required for this trek. The trek will go through difficult and steep paths and traversing through snow may prove to be hard as well. The trek starts from Dhaula, which is about 10 hours drive away from Dehradun.
The best time to go on this trek is from May-June and September-October. Summer Trek in Uttarakhand is recommended as nature will be blooming and will be at its best during this time.
Max Altitude - 15,250 ft.
Duration - 8 days
Level - Difficult
Roopkund lake goes by names like Mystery lake and Skeleton lake due to the presence of about 500 skeletons at its edge. Did I get your attention yet? The presence of the skeletons is still kind of a mystery, but there are several stories that revolve around this creepy but interesting part of the trek. Most convincing is that travelers might have gotten caught in hail storms and landed in the lake due to landslides. The scary part aside, Roopkund Trek has a lot to offer. Roopkund Trek in Uttarakhand will take you through dense oak forests of Ghairoli, here you can even get a chance to bask in sunlight before the snow-laden path starts. Another thing that makes this trek interesting is that you get to pass through two huge, gorgeous alpine meadows: Ali Bugyal and Bedni Bugyal. All this lush greenness is bound to open up your heart and spirit.
The later stage of the trek includes a thrilling experience through the snow-covered trail. All the while you will get to see famous mountains like Mt. Trishul and Kedarnath. From the top of the peak, you will witness an even better view of Mt. Trishul. Winter Trek in Uttarakhand is really an adventure of the lifetime and this trek will definitely live up to its hype. The journey starts from Lohajung and from there it will be a trek that you will thoroughly enjoy. The snow-covered trails make this trek suitable for only experienced trekkers. You should be able to traverse through the snow, also the path will be steep and rocky, which makes the trek all the more difficult. The best time to go for this trek is from May-June and September-October. Embark on this journey that houses a strange mystery along with beautiful panoramic scenes and you will remember this time with awe and happiness always.
Max Altitude - 15,750 ft.
Duration - 8 days
Level - Moderate
Also known as Curzon trail as it was Lord Curzon who explored this route this trek is sure to leave you spellbound. Kuari Pass Trek is considered to be the best Himalayan trek for beginners. It gifts you with beautiful forests and mountain views of Mt.Nanda Devi and Mt. Dronagiri from the very first day of the trek. The Kuari Pass has mostly old forests of oaks and rhododendrons. Unlike many treks, Kuari Pass has outstanding campsites just like Chitrakantha, camping in the forests and Khullara campsite which has magnificent Mt. Dronagiri in the background. The best time to visit Kuari Pass is from December to March as the forests are blooming making the whole surrounding even more beautiful. The Kuari Pass trekking starts from Haridwar. The ride will be long but the distance doesn't matter much as the route is beyond beautiful, the mountains seemed to be hugging the whole road from both sides making the ride more thrilling. On the next day, leave Lata for Guling via Dhak. Guling is at a distance of 5-6 hrs from Dhak. You will be able to witness hathi and Ghoda Parbat from Guling. A 3-4 hrs trek from Guling will take you to Khullara, overnight camp here with Mt.Dronagiri as the backdrop. On Day 4, you will move from Khullara to Chitrakantha where you will have the joy of experiencing the greatness of Neelkantha, Dronagiri and Nilgiri mountains. You will have to climb a little for the Tali lake. Come to the Kuari Pass Trekking Tour Package for the mixture of adventure, nature, and marvelous camping sites.
Max Altitude - 12,763 ft.
Duration - 6 Days
Level - Easy to Moderate
The falling snow and the snow-clad pine trees, view of spectacular Himalayas, welcome to Kedarkantha Trek. The Kedarkantha Trek is perfect for nature lovers as it is full of beautiful snow-capped mountains, greenery, lush landscapes, variety in flora and fauna and unusual frozen ponds with a nice pictorial view of falling snow. Kedarkantha Trek is one of the popular treks of Uttarakhand due to the snow and the campsites which are unique in their own way. It is an easy snow trek with the pleasure of having nature's beauty surrounding you. The trek starts from Sankri and then leads to an altitude of 9,100 ft. at Juda-ka-Talab. There are several bridges that are to be crossed which go through the dense forests and the thick carpet of maple leaves. The view here is mesmerizing as you have the lake on one side and pine and oak forests on the other side. Leave for the Kedarkantha Base Camp the next day. Journey on this route is wonderful with dry oak forests, stretched meadows, shepherd huts, snow-capped Bandarpoonch mountain, you can also hear running streams and if lucky, you can spot some alpine fauna like Himalayan langurs, boars, marlens and hares. Enjoy the night sky at Kedarkantha Base Camp which is bright and full of stars. The next day you will be trekking towards Kedarkantha Peak, an altitude of 12,500 ft. There are meadows laid out on the earth and a small temple of Shiv and Parvati at the top. Reach Hargaon by the evening and leave for Sankri the next day. Kedarkantha Trek Tour Package can opt if you are a nature lover and want something easy.
Max Altitude - 12,500 ft.
Duration - 4 Days
Difficulty - Easy
Want to feel the charm of all the old tales? then you are welcome to Har Ki Dun Trek. The mythology awaits you; The Pandavas took the trail to heaven via Swargarohini. As its name suggests Har Ki Dun, the valley of Gods holds many places in myths but to visit Har Ki Dun Trek, that's not the only excuse. The natural captivating aura around will surely be able to lure you. Har ki Dun Trekking opens a doorway to secluded Himalayan villages that are rich in their cultures. This place is also loved by nature enthusiasts who have a knack to see different species of animals and birds. Har ki Dun is home to a vast variety of flora and fauna: Black bears, wild boars, barasingha, Himalayan Monal, langoor families are there to name a few. The 7 Day Har ki Dun Trekking Itinerary starts from Sankri, the temple which is at an altitude of 6,937 ft. On Day 2, reach at Bhida ka Thach via Taluka which is an exquisite place for a campsite near the flowing stream. Dont forget to explore the near village of Osla and to capture the beauty of wooden houses and enjoy the unique mountain views of Rohinsara peaks on Day 3 at Chilurgad. Reach at Simatra on Day 4, a beautiful place of chestnut and pine forests filled with rhododendrons and a perfect combination of meadows and gushing streams. The 3km trek the next day will bring you to the Har Ki Dun valley. Bask in nature with the soothing sound of Thamsa river and the breathtaking views of Rohinsara peaks, the Har Ki Dun Trekking Tour Package is a must.
Max Altitude - 11,750 ft.
Duration - 7 Days
Difficulty - Easy to Moderate
If you are a first-time trekker and want snow then this winter trek, Brahmatal Trek will be sure to lure you in its charm. A major part of the trek continues under forest cover, diminishing the chances of altitude sickness making it easier for the first-timers. It is termed as a classic winter trek among the trekkers which mostly done in January and February because of the snow. The Brahmatal Trekking will gift you the views of clear sky, snow-laden forests and frozen glacial lakes. The trekking will mostly be done on the snow and that's why at some places you will have thrilling climbs. The 6 days Brahmatal Trekking Itinerary will take you from Kathgodam to Lohajung which takes you from the mountain alleyways in a hectic 10-hour drive. On the route from Lohajung to Bekaltal, it takes an approximate one hour hike while crossing many loud streams like Begum and Gajrani, to reach the beautiful Bekaltal stream. The route from Bekaltal to Brahmatal will take you from the trail of Oaks and Rhododendrons to finally putting you out in meadows, the meadows of Talandi. Next day you will head towards Bramhatal Lake for your journey to Tilbundi via Brahmatal Pass with Oaks and Rhododendrons in the background. Reaching the top, you will be greeted by the jaw-dropping view of Mt. Trishul and Mt. Nanda Ghunti. Again a trail filled with Oaks and Rhododendrons as you make your way towards Wan on the next day from Tilbundi to Lohajung. The last point will be a journey from Lohajung to Kathgodam.
The natural view and snow-covered forests make the Brahmatal Trek Tour Package a must in your adventure.
Max Altitude - 3,841 m
Level - Easy
Duration - 4 days
Join our fixed group departures: 2020 Departures

Top Treks In Uttarakhand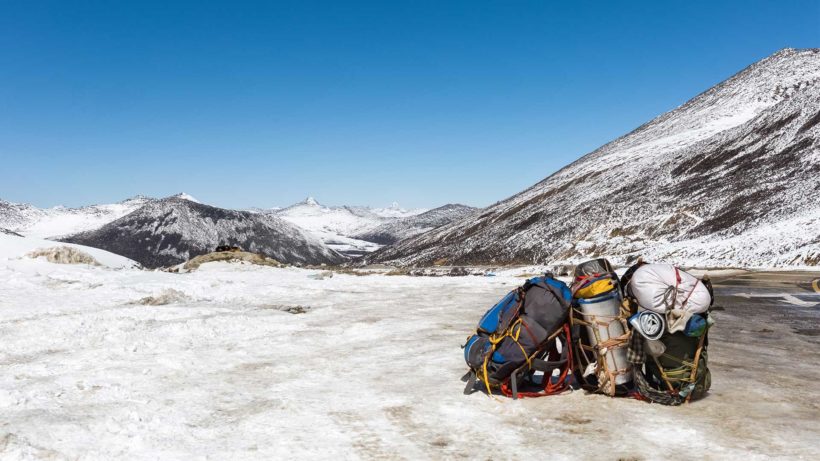 8 Days
USD 205 / INR 15450/-
Location : Uttarakhand
Difficulty : Moderate to Difficult
Best time : May-June, Sept-Oct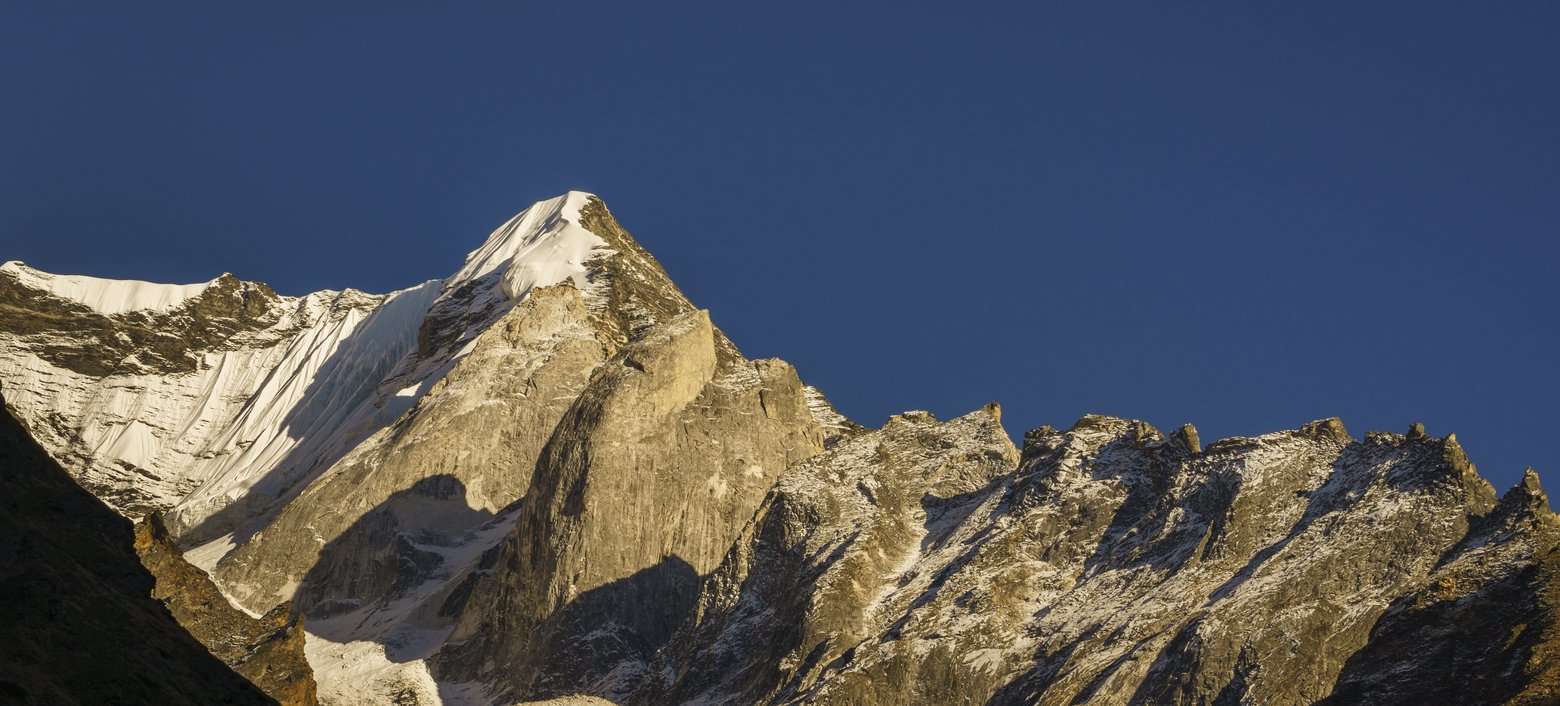 7 Days
USD 215 / INR 15450/-
Location : Uttarakhand
Difficulty : Moderate to Difficult
Best time : May-June, Sept-Oct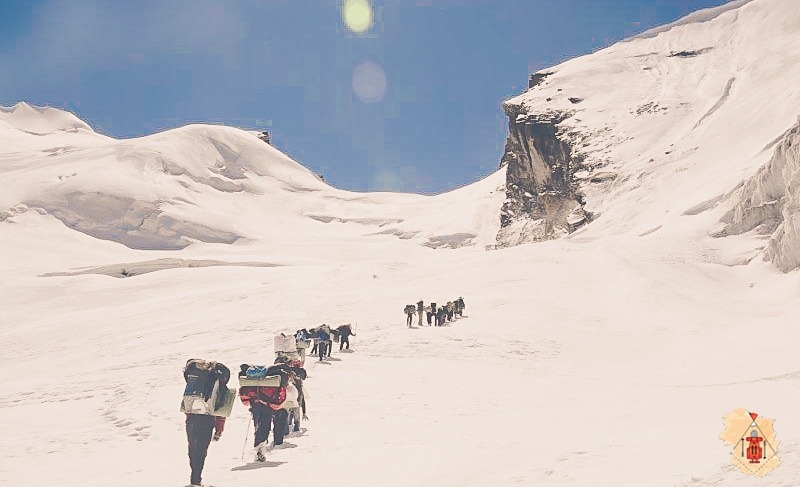 15 Days
USD 1250 / INR 92000/-
Location : Uttarakhand
Difficulty : Ultimate Difficulty
Best time : May-June, Sept-Oct
All Treks In Uttarakhand
Why Trek in Uttarakhand?
Called as the Devabhoomi or "Land of the gods", the state of Uttrakhand has been called so because it is adorned with probably the largest number of Hindu Temples and pilgrimages in the world. The state which is believed to be the very place where Vyasa wrote the Indian epic of Mahabharata, where the artifacts (rock painting, shelters and stone tools) of the Palaeolithic have been gathered, where the megaliths are have been proven to shelter in the ancient days, and where the existence of c. 1500 BCE 's Vedic practices have been found, is famous for its Chipko environmental movement which was more of livelihood movement but became a kind of forest and environment conservation 'inspirational' non-violent movement for many environmentalists; all of this is what one gets reminded of when one talks about the Indian subcontinent's 27th state of Uttarakhand. Adding into the significance of the area, it was amongst the first state in India which brought into the forefront the problems of tribal groups.
Shaivism entered in the second century BCE, after which Buddhism started to emerge in the western parts of Garhwal and alongside it entered conventional practices of Folk Shamanic. Tibetan-Burman crowds got settled in the north. During the medieval years, the area was solidified in the east as the Kumaon Kingdom and in the west as the Garhwal Kingdom in the East. Present-day Garhwal got consolidated under the rule of Parmars. Gorkhas ruled the Garhwal Kingdom until 1803 when ultimately, after a war between the British and Nepalese, the empire came under the British Raj. After India got freedom, the kingdom was blended with the state of Uttar Pradesh, when the Garhwal and Kumaon Divisions came under the umbrella of one name, Uttarakhand until the year 1998, after which the disquiet started to stir for the separation of the region as an independent state of India.
Geographically, the state shares its borders are shared with Tibet, Nepal and India, with Uttar Pradesh, Himachal Pradesh, and Haryana. Uttarakhand has agriculturally rich lands for the vegetation of cash crop, sugarcane and other famous crops like basmati rice, soybeans, pulses, oilseeds, wheat, groundnuts, and also fruits like pears, plums, oranges, apples, litchis, and peaches. You'll be able to see many of these crop fields during your journey towards the various peaks of Uttarakhand.
As the state is resting upon one of the major attractions of northern India, the Incredible Himalayas, the state becomes a significant contributor to the growth of tourism industry in India, comprising of the number of tourist places, including the number of important temples built during the ancient period of India, various well-maintained forest reserves, charming hill stations, some of the most charming peaks adding into the major sports and thrilling activities of the region. Highlights for tourists are, Oak Grove School, originating through the land of Uttrakhand are the holy brooks of Ganges and Yamuna, forty-four protected monuments, Badrinath, Kedarnath, Chota Char Dham, Haridwar or "Gateway to the God", Haridwar Kumbh Mela, Rishikesh, a prime yoga center of the nation, various shrines of local deities like Durga and Shiva. All of these are Hindu revered pilgrimages and places. But Uttarakhand also adorns with other religious pilgrim sites of Piran Kaliyar Sharif for Muslims, Gurdwaras - Hemkund Sahib, Reetha Sahib, and Nanakmatta Sahib for Sikhs, Mindrolling Monastery and the Buddha Stupa for Tibetan Buddhists. Skiing resorts, Auli and Munsiari are also famous sports attractions. Jim Corbett National Park, Vasudhara Falls, are also amongst other major tourist destinations.
The land is adorned with the snow-laden mountain peaks, thus making the sports of mountaineering, hiking and climbing as favorite and major adventure sports in Uttrakhand. Uttrakhand treks have resulted in the growth of adventure tourism in the state. Treks in Uttrakhand are popular due to their beautiful snow-covered peaks and gorgeous landscapes. At 16,000 ft, for example, is Roopkund trek. This is amongst the Best Short Treks in Uttarakhand due to its interesting passage through Bugyal meadows and strange presence of skeletons inside the lake of Roopkund. Creepy. If you are someone who needs a break on weekends or just a one-day adventure, then weekend treks in Uttrakhand is also a good option. One of the most notable is the two to one day trek in Uttrakhand, called Nag Tibba Trek. It is easy, available all year long and is at the same time thrilling, giving a glimpse of snow-covered peaks of Garhwal peaks.
Concludingly, Trekmunk is a group of those trekkers who are passionate about Himalayan trekking, and thus Uttarakhand becomes one of the major destinations for not only the grand expeditions and explorations but also the weekend, one-day, alpine and all kinds of trekking trails that the state provides