The top treks of Ladakh are:
If you are the kind of person who likes to do things that are not a popular choice then Lamayuru to Rangdum Trekking is the best thing for you. Lamayuru to Rangdum Trek will take through remote paths that are almost untouched by civilization. The trek starts from Rangdum Monastery itself, and the most interesting part about this trek is that it takes to you three high altitude passes. Contrasting with the normal treks, Lamayuru to Rangdum Trek India offers you a beautiful view of hills on one side and snow-clad mountains on the other side. Another major attraction that makes this trek considerable is the 18th-century Monastery that you will come across. At the end of your trek, you will pass through remote villages which will give you a chance to explore the cultural aesthetics of the place. The route of this trek is mind-blowingly beautiful. You very well may not come across this kind of isolated and almost hauntingly beautiful place during any other trek. While the trail of this trek very luring only experienced trekkers can go for this one. This trek will require strenuous activity that will be hard on your body. So, you need to be very well prepared for this very eccentric experience. The trail takes you from Rangdum, through Kanji village, and finally to Lamayuru. You can take a look at the Lamayuru to Rangdum Trek Itinerary to get a detailed knowledge of how your trek will unfold. The best time to go for this trek is from July-September. If you qualify for this trek there is no reason why you should hesitate. This one-of-a-kind experience will not let you down in any way and you will go home with a head full of gorgeous new images. Do check out the Lamayuru to Rangdum Trekking Tour Package, and if possible, book it asap.
Max. Altitude - 5,246 m
Duration - 10 days
Level - Difficult
You can trek anywhere you want but Leh will always hold a special place in the heart of trekkers. Those majestic mountains will always continue to excite you all in your adventures. Saboo to Khaltsar Trekking includes long and bumpy drives and the attraction of the Khardung La pass and not to forget the excitement of mountain flights. It connects the Indus valley to the Nubra valley which still have the proper essence of pure nature, unaltered by humans.
It is basically a moderate trek. Saboo to Khaltsar requires 6 days (Leh to Leh). After breakfast at Leh, it is a 5-6 hours journey gaining an elevation of 3238+ ft and covering a distance of 8.4 km to reach Digar La base at an elevation of 15,187 ft and stay the night there. When you walk through Saboo Phu you can see the local Saboo villagers with their livestock. Next day you will reach Chumik Yokma through Digar La; the hike to Digar is a steep one but you will enjoy the spectacular views of Saser Kangri, Stok Kangri, and the Karakoram range and the trail from Chumik Yokma lets you through a series of beautiful meadows. You will continue your descent the next day to Digar which is a small village and stay there for the night. Day 4 will start by coming down to Rongjok which will be a gorgeous as you will walk down through an open area above the Shayok river, it will take around 4-5 hours and lead you to a beautiful village named Khalsar and then drive to Deskit. Stay overnight in a camp or a hotel. After breakfast have a short walk to the Deskit monastery and drive back to Leh via Khardung La.
So if you are finding spots for a trek to a place where you can get to see nature so authentic and if you love Leh then don't waste any more time and look at the Saboo to Khaltsar Trekking tour package and Saboo and Khaltsar Trek Itinerary.
Max Altitude - 5,405 meters
Duration - 7 days
Level - Moderate
The Sham Valley Trek is for all of you who are beginners and just started or thinking about trekking. It is also known as the "baby trek" of Ladakh. This trek is also suitable for families. The best time for this trek is between July and August as the Manali-Leh and the Srinagar-Leh highways are open for private vehicles. Sham Valley also is known as the Apricot valley is situated at a short distance from Likir which is famous for it's monastery.
The Sham Valley Trek Itinerary includes arriving at Leh and rest for the day also will help your body acclimatize. The next day have a light breakfast and set for Likir by a car which is just 58 km away. It is basically the starting point of your trek. The route will be comparatively easy than the rest but there will be no shad or water on your way. There will be two passes on your way up, Phobe La (11,745 ft) and Chagatse La (11,909 ft). After you cross Chagatse La you will reach the village of Yangthang at 12,073 ft where you camp for the night, right next to a stream. The next day's trail is easier as both the ascent and descent are very gentle. After you rest at a pass, you will head down towards Hemis Shukpachan. It is apparently Ladakh's one of the prettiest. There are many beautiful streams bordered by shady willows and large barley fields. The next day will again be an easy day despite the hike to the pass. The trail goes steeply up to Mebtak La (12,303 ft) marked by prayer flags. Right from the pass, we head down the gorge to Ang, which is a very charming village with apricot orchards everywhere. From there you will head down to the main highway at Temisgam and drive back to Leh which will end your Sham Valley Trekking for this time. If you too are new at trekking do check the Sham Valley trekking tour package and enjoy a fun trek with your family.
Max Altitude - 3,876 meters
Duration - 6 days
Level - Easy
The Snow Leopard trek coils through the heart of Hemis National Park lapped in the verdant laps of Markha and Rumbak Valleys. Spanning roughly 600 sq.km., Hemis National Park is a wildlife reserve and grants you several opportunities to spot various floral, avian and wildlife species that it harbors. As the name suggests, the trek leads you through trails and places where Snow Leopards are easy to spot. Besides Snow Leopards, species like Ibex, Marmot, Tibetan Hare, Horned Lark, Antelope, Snow Cock and Shapo may also give you a rare glimpse. Needless to say, the Snow Leopard trek is one the most sought after treks by wildlife enthusiasts from around the globe! The trek carries a panoramic canvas of the Himalayan neighbors, along with beautiful expanses of greenery, making the trek a dreamy experience. Besides wildlife, you're also treated to countless fascinating stories surrounding Rumbak valley! It is also one of the only winter treks in Ladakh!
Max. Altitude - 3,800 meters
Duration - 12 days
Level - Moderate
This trek is as mysterious as its name suggests. Lying in the northern region of the Great Himalayan ranges, it is rugged and intriguing land. It is protected by the Indus valley and the Indian Himalayas and that's why it has also protected the archaic form of Tibetan Buddhism. The Lamayuru to Padum trek will offer you beautiful high meadow campsites, dry desert lands, high passes and snow-capped peaks of various heights. The Lamayuru to Padum trekking itinerary starts from Delhi from where you will catch a flight for Leh. Visit some of the oldest and most famous monasteries of Ladakh such as Thikse, Shey and Hemis. Pick some souvenirs with you from the colorful Bazaars of Leh which are beautiful in their own aesthetic way as you acclimate your body. On day 4 drive to Kargil from Leh. From Kargil, you will be driven to Padum, from where the actual trekking session will start. On the very next day, start your trekking as you move from Padum to Karsha. It is a pleasant walk of 3 hrs through fine fields, a beautiful view of Himalayan ranges in the background as you visit the Pepiting monastery and Karsha Gompa pass. The trek from Karsha to Pishu is along with the Zanskar river which will enhance the beauty of this trek. Move to Hanumil the next day, while visiting Rinman village along the route. You will be visiting many passes while Lamayuru to Padum trekking, some of them are Hanuma La which gives you magnificent views of Ladakh and Zanskar range and also Lingshet monastery, Singe La, Photoskar, Sirsir La, Wanla and finally Lamayuru. Lamayuru is famous for its Lamayuru monastery which is the biggest monastery and standing tall from the 16th century. Its walls are decorated with colorful wall paintings. If you want to witness the regions of Leh in its pure form, Lamayuru to Padum Trekking tour package is here.
Max. Altitude - 5,000 meters
Duration - 14 days
Level - Moderate to challenging
As opposed to the Kashmir Great lakes which soothe eyes with its alpine lakes and lush green forestry, Markha valley trek in Kashmir will leave you in awe with its beautiful parched, dry and barren regions. It is fascinating to exhibit from lush green to yellow barren landscapes. Markha Valley trekking lets you explore the Buddhist monuments in Leh and also the tiny hamlets along your journey. There are many tea and coffee houses as your companion for the whole trekking which provides wonderful hot drinks, calming your tired senses of long strides. Along with the hot beverages, there are Rambuk, Yurutse, Skui and Markha settlements which also rejuvenate you. The regions of Markha Valley are filled with monasteries, ruined forts, and temples that speak the history of the time they have seen. The Tacha monastery in all of them stands apart with its beautiful structure and also its place that is between the mountains. Though this trek is considered to be the trail in the dry regions, you will come across many rivers like Indus, Markha and many more. The place also holds a part of it for the Hemis National Park due to which it has a variety of fauna like mountain sheep, argali, rabbits, snow leopards, etc. For the Markha valley trekking you go through two cardinal passes, Ganda La and Kongmaru La. Kongmaru La gifts you the panoramic views of Karakoram and Ladakh ranges. You can also spot distant Tibet region from the top of this trek. Markha valley trekking itinerary starts from Leh. Stay at Leh is followed by hiking to Shey Palace, Thiksey Monastery and Thiksey Gompa which tells you the story of Buddhist culture. Day 2 is of acclimatization at Leh. On the next day drive to Chilling while having the pleasure of seeing military camps decorated with colorful boulders, you will also see an unusual amalgam of Indus and Zanskar river which is calming and bottle green in color which is called as Sangam, also witness the valleys having purple, grey and blacks shades of mountains. A beautiful journey awaits you as the trek from Chilling to Skiu, visiting its upper and lower village, Sara which has enormous wildlife, Markha which gives peek inside the Buddhist spiritual journey, Hankar and Nimaling from where you can have the view of K2 mountains. The Markha valley trekking tour package is a must.
Max Altitude - 17,060ft.
Duration - 9 Days.
Level - Moderate to Difficult
Based in eastern Ladakh, lies in Rupshu plateau, a habitat for the Changpa Nomads. Mentok Kangri 1 is a place from where you can see the beautiful Tso-moriri lake. Mentok Kangri 2 Expedition is a challenging trek due to its high altitude and barren mountains. The journey starts at Leh. Day 2 and Day 3 will be at Leh where you can visit monasteries like Shey, Thiksey, and Hemis. The place also has an old Leh palace and Khardung La Pass. The Leh market also doesn't cease to grab the attention of the trekkers due to its aesthetical beauty. On Day 4 you will drive 2-3 hrs from Leh for Rumtse, a village on Manali-Leh highway. You will be overnight camping near the village of Gya. Next day a 3-4 hrs drive will take you Tsokar village through Tanging La Pass, you can also take a long walk along the Tsokar lake. The real trekking starts from the next day as you trek 4-5 hrs from Tsokar to Nuruchan. You will be camping near a beautiful stream. Crossing the narrow stream, you will be trekking towards Ranjungkaru through Kongka La pass which is marked by typical prayer flags of Buddhists. From Ranjungkaru you will trek towards Gyama Burma through Kyamayuri La pass. A 6 hrs trek from Gyama Burma towards Karzok Phu opens the door of views of barren mountains, snow-clad peaks, Tsomoriri lake and Mentok Kangri for you. The next day you will reach the base camp and will spend one day as an acclimatization day at the base camp. The next day is also termed as Mentok Kangri Summit 6250 day due to the max altitude of the peak is 6250 m i.e. 20,505 ft.
Max Altitude - 6,250 m
Level - Difficult
Duration - 14 days
Highlights:
The trek stems from Spiti, and crosses over to the cold desert of Ladakh, spanning over a diversity of stunning terrains.
You also get to witness the splendid Kiangs in their natural habitat.
The radiant confluence of the Pare Chu river and Phirtse Phu river greets you with a sprawling embrace.
Max Altitude - 18,308 ft.
Duration - 13 Days
Level - Ultimate
It is an easy trek and it offers great scenic landscapes and gorgeous panoramic views from the Stok La. You can easily spot wild animals as the way passes through the Hemis national park. The Spituk to Matho trek starts from Spituk at day 1, do visit the Spituk monastery before the trek and walk along the river Indus until you reach Zingchen. You can also travel this distance in a jeep. The next day you will trek 6.5 km which will take around 3-4 hours gaining an elevation of 1,820 ft. You have to enter the Hemis National Park and keep on following the valley leading to Rumbak village. There is a possibility of a homestay in Rumbak which is subject to availability. The following day will be a challenging one as you will cover a distance of 10.7 km which will take around 6-7 hours. You will go through an ascent of 3628 ft and descent of 2,237 ft. As you continue your Spituk Matho Trekking you will witness breathtaking views of your surrounding mountains and the river Indus. After you reach the pass, the descent will be quite steep, keep on following the trail until you reach the shepherd settlement at Mankarmo. Day 4 will be quite easy as you will cover a distance of 8 km at around 4 hours with almost equal and gradual ascent and descent. Enjoy beautiful views of the Stok Kangri on your way through the pass. Walk down towards Gangpoche at an elevation of 14,527 ft and stay the night there. Day 5 will be a 10.8 km trek taking around 3-4 hours. You will be going through a beautiful gorge to reach Matho village. Once you reach Matho village, don't forget to visit the Matho monastery before leaving for Leh the next day which will take around 40 mins.
So overall if you want to witness not only breathtaking sceneries but wildlife too, the Spituk Matho Trek in Ladakh is the trek you want to go for.
Max. altitude - 16,174 ft.
Duration - 7 days
Level - Moderate
Gracefully dominating the stunning Markha Valley in the Hemis National Park of Ladakh, Kang Yatse forms 2 summits, closely resembling the shape of a king's throne. The western summit, Kang Yatse II, reigns at a staggering 6,250m and is the perfect alternative to the relatively crowded Stok Kangri summit. Ideal for those who wish to attempt their first 6000-er and stray a bit from the mainstream, the trek allows a breathtaking taste of mountaineering without overpowering you. A clear day will greet you with astounding views of the Zanskar and Nun Kun Ranges, and the mighty K2 peak amongst other neighboring beauties!
Trek Highlights:
1. Mild technicalities that introduce you to mountaineering skills.
2. A less crowded alternative to Stok Kangri.
3. Ravishing panoramic views of the Zanskar Range and K2.
Rupshu Valley is a high-altitude plateau located in the southeast region of Leh Ladakh. It was only recently that the restrictions in the eastern region of Leh were lessened, and from then more exciting routes were made open for trekking, so, if you do decide to consider this trek you will be among the very few people who have explored this remote region. Think carefully, standing out from the crowd is always charming. Rupshu Valley Trek will offer you a chance to explore the deserts that make up the most parts of this trek. This kind of scenery will not be made available to you during any other treks. While roving through deserts and grasslands seems a little rough, the place exudes a unique kind of beauty which is definitely worth exploring. Trek to Rupshu Valley will be a dry and cold experience, which also makes this trek stand out. During this trek, you also pass through two beautiful salt-water lakes: Tso Moriri, Tsokar, and get glimpses of Lake Pangong. You will get to witness the homes of Nomadic tribes, called Changpas, living in this area. Their source of sustenance is only through their yaks and sheep. Getting to mingle with people living in such extreme conditions seems quite interesting.
Rupshu Valley Trek in Ladakh cannot be attempted by beginners though. Getting acclimatized is a very big issue in this area and thus, people who don't have any prior experience with high-altitude treks will find this trek extremely hard. Acclimatization alone can take up 3-4 days of this trek. During that time, you can visit the monasteries located in Leh. The trek starts from Shang, where you will be driven to from Leh. The best time to go for this trek is from July-October. Make up your mind and embark on this truly extraordinary journey. The landscapes that you will see during this trek will be the most offbeat ones.
Max. Altitude - 5,240 m
Duration - 11 Days
Level - Moderate to Difficult
Straying well off the beaten path, the Kanji La trek traces one of the remotest yet exceptionally scenic routes in the Zanskar region of Ladakh. Cutting through beautiful lush forests, villages passes, and gorges, the trail is constantly fenced by majestic snow-clad peaks. The route later follows the scenic route along the river Tsarap Chu, leading up to the temple of Phuktal Gompa, which is one of the most stunning temples in the world. As you progress, some of the best campsites in the country await you! Experience literally breathtaking moments as you make your way through the Phirtse La Pass, which is the highest point of our trek.
Level - Moderate to difficult
Maximum Elevation - 5,150 m
Season - Mid August to Mid October
Trek Highlights:
1. Explore remote villages in the Zanskar region.
2. Tread through dense forests, passes, canyons, and gorges.
3. Experience peace, quiet and solitude on this offbeat trek.
One of the most breathtaking high altitude treks in Ladakh, the trail from Rumtse to Tso Moriri traces a verdant blanket of greenery and revolves around wildlife, alpine lakes, monasteries, and nomads. This daunting trek starts from the village of Rumtse at 4,100 m and ends at the beautiful Tso Moriri Lake in the Changthang region, which is a spellbinding sight to behold. The Changthang region houses several exotic species of wildlife like the Himalayan Wolf, Tibetan Wild Dog, Wild Ass Kiang, Himalayan Marmot, and Tibetan Argali, which may grace your landscape if you're lucky enough. Also, the campsites of Kyamar, Tisaling, and Rachungkharu are some of India's most beautiful gems, presenting you with spectacular views of the lush forests and towering mountains. The massive Mt. Kang Yatse chaperones your trek!
Max. Altitude - 4,600 m
Trek Highlights:
1. Explore the beautiful Tso Moriri Lake.
2. Spot some of the rarest and most stunning wildlife species.
3. The backdrop of the majestic Mt. Kang Yatse
4. Visit incredible Buddhist monasteries on the trek.
Being in the heart of Ladakh, Chadar Trek is also known as the Frozen River Trek. As the Chadar River is fully covered in snow in February, this month is preferred for the trekking. There is also a winter trail in the Zanskar region of Ladakh in the month of February. The Chadar Trek allows you to get to know the Zankari culture up close through the locals you meet on the trek and experience their hospitality. The Chadar trek is over the Zanskar river which remains frozen during the months of winter. While trekking, you will see the color of the Zanskar river flowing vibrant and deep blue and sometimes you will see water flowing right beneath you under the thick ice sheet. The Chadar Trek Itinerary is generally of 9 days including the day of arrival in Leh and acclimatization day. The journey from Leh to Tsomo Paldar is via Chilling & Tilad do which lets you witness some of the top spots in Ladakh. The frozen waterfalls of Tibb cave is still a mystery to the villagers and hold great myths for them because of the unknown source. The next day you will move from Tibb to Nerak, which is 13km. long trail and that takes you the most iconic landmarks of frozen waterfalls. You will also witness some gigantic yaks grazing over the valleys and a wooden bridge that lets you to the Nerak village. On the following days, you will be on the reverse journey from Nerak to Tibb and might also catch a few locals singing traditional Ladakhi songs while pulling their sledges and enjoying the journey from Tibb cave to Gyalpo and to Leh. Add this Chadar Trek Tour Package quickly to your bucket list!
Max. Altitude - 11,123 ft
Duration - 10 Days
Level - Difficult
Ladakh is one of those places where you don't get tired of visiting again and again. The capital of Ladakh, Leh situated at a height of 11,482 ft is a renowned place for trekkers and adventure lovers. Stok Kangri is even higher than the highest mountain in Europe and Africa namely Mt. Elbrus and Mt. Kilimanjaro respectively. The Stok Kangri trek is a dream for every avid trekker.
The trek starts at Leh. During your time in Leh, get all the important things that you need ATM is available, mobile network is available(till a certain point). Do not visit any high altitude place or pass, consumption of alcohol and smoking is strictly prohibited. The next day you will continue to stay in Leh for your body to get acclimatized. Visit the Hemis, Thiksey or any of the other monasteries for sightseeing if you please. Visiting any high altitude place is not advisable. Stok Kangri provides you with the view of the entire Zanskar and the Indus Valley. The biggest challenge that you will face on your expedition will be the summit day where you will have to encounter sub-zero temperatures, trek on a glacier for about 6-7 hours at night and also walk on the ridgeline for 2 hours to reach the summit. But after you reach the summit it will be absolutely worth it. You will be mesmerized to witness the 360-degree view from the top with Saser Kangri along with the Karakoram dominating the north and the Zanskar in the south. Although the Stok Kangri trek does not need any technical expertise, it is strictly not meant for beginners.
Some tips before attempting the Stok kangri trek Leh Ladakh, people having heart problems, asthma, high blood pressure, epilepsy cannot go on this mission. You need to be absolutely fit before going for the summit.
Max. Altitude - 20,180 ft
Duration - 8 Days
Join our fixed group departures: 2020 Departures

Top Treks In Ladakh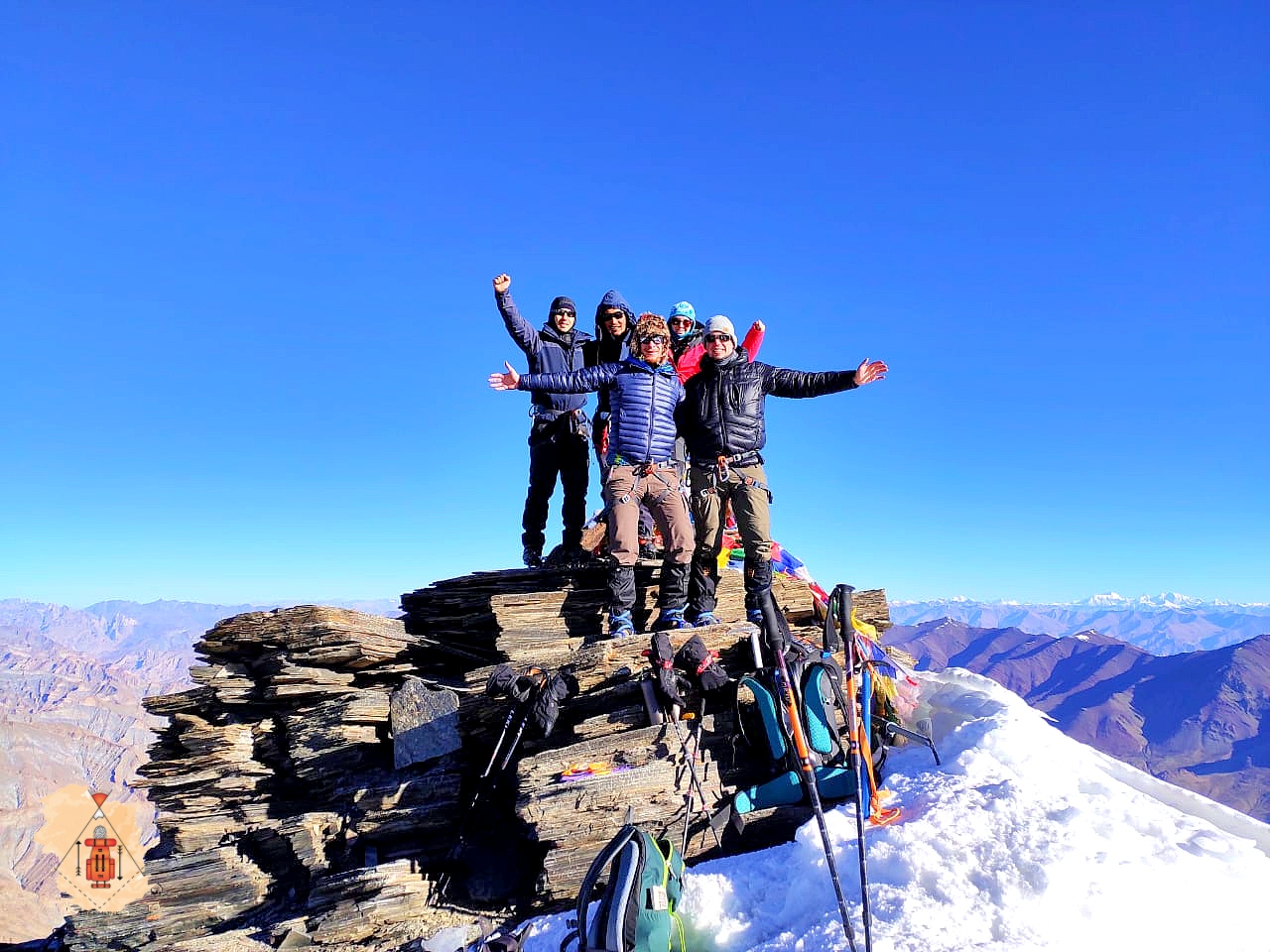 12 Days
USD 637 / INR 45,650/-
Location : Ladakh
Difficulty : Ultimate Difficulty
Best time : July-Sept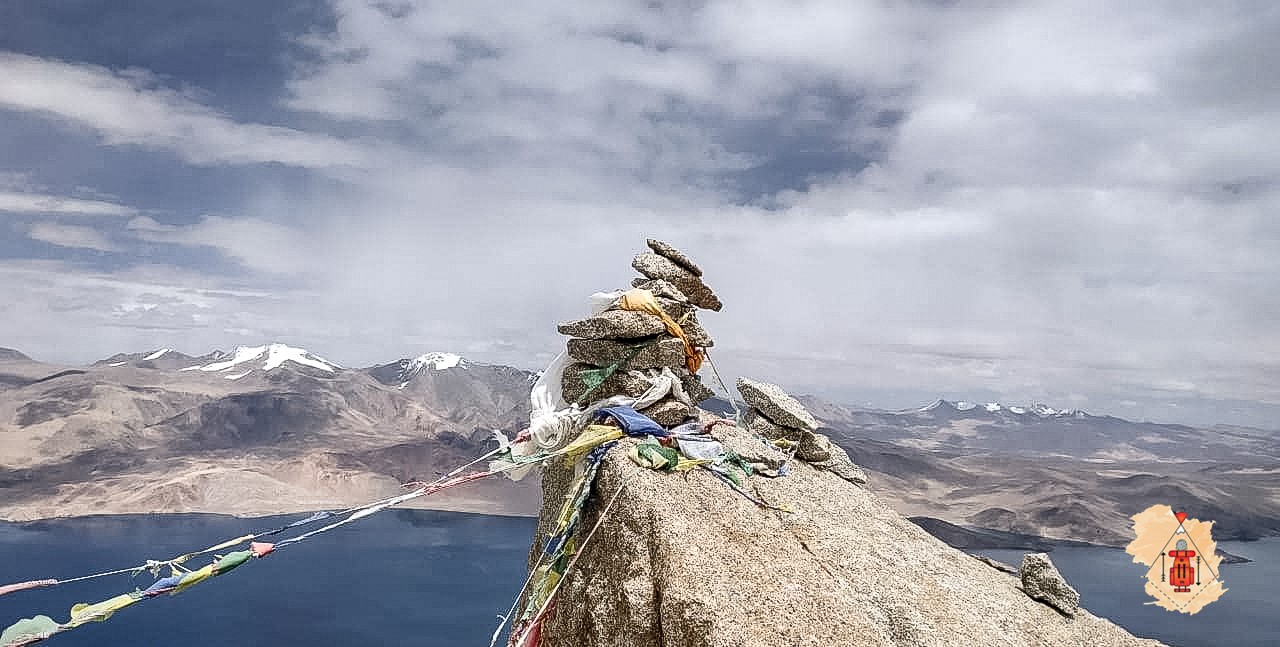 14 Days
USD 700 / INR 48,500/-
Location : Ladakh
Difficulty : Difficult
Best time : June-Oct
All Treks In Ladakh
| Trek Name | No Of Days | Cost | View Details |
| --- | --- | --- | --- |
| Chamser Kangri Expedition | 20 Days | Rs 165,000/- | View Details |
| Mount Kun Climb | 21 Days | Rs 260,000/- | View Details |
| Stok Kangri Winter Expedition | 12 Days | Rs 85,000/- | View Details |
| Nubra Valley Trek | 8 Days | Rs 40,000/- | View Details |
| Mount Nun Climb | 22 Days | Rs 180,000/- | View Details |
| Rangdum to Lamayuru Trek | 10 Days | Rs 65,000/- | View Details |
| Saboo to Khaltsar Trek | 7 Days | Rs 34,500/- | View Details |
| Sham Valley Trek | 6 Days | Rs 16,500/- | View Details |
| Snow Leopard Trek | 12 Days | Rs 95,000/- | View Details |
| Lamayuru to Padum Trek | 15 Days | Rs 95,450/- | View Details |
| Markha Valley Trek | 9 Days | Rs 19,500/- | View Details |
| Mentok Kangri Expedition | 14 Days | Rs 48,500/- | View Details |
| Spituk Matho Trek | 7 Days | Rs 17,450/- | View Details |
| Kang Yatse II Expedition | 12 Days | Rs 45,650/- | View Details |
| Rupshu Valley Trek | 11 Days | Rs 44,150/- | View Details |
| Kanji La Trek | 13 Days | Rs 59,600/- | View Details |
| Rumtse To Tso Moriri Trek | 11 Days | Rs 52,650/- | View Details |
| Chadar Trek | 9 Days | Rs 54,500/- | View Details |
| Shingo La Trek | 17 Days | Rs 110,000/- | View Details |
| Ripchar Valley Trek | 8 Days | Rs 40,000/- | View Details |
| Kang La Trek | 14 Days | Rs 135,000/- | View Details |
Why Trek in Ladakh?
The section of northern India which connected the country with the world's ancient network of Silk Route, Ladakh, is one of the states of the ambivalent valleys of Jammu and Kashmir. Also known as "the land of high passes" (which is a literal translation of the word), the region has, if not famous then an interesting history of politics and religion. Highly influenced by Islamic religiosity, the locals of Ladakh or Ladakhis mostly converted to Islam during the two-hundred years-long history of continuous incursions by the state's Muslim neighbors. Before this (medieval era), during the first century, the area was under the Kushan Empire and its inhabitants were Indo-Aryans and thus Hindus.
Under Kushans and many upcoming ruling empires, the region was able to find and preserve the area's unique stone carvings and significant works of Pliny, Ptolemy, and various others. Buddhism came before Tibetans in the second century, through Kashmir and thus flowing upwards. Islam entered Ladakh only after the 13th century along with its Islamic and Sufi missionaries. Amongst the most prominent Islamic influencers being Mir Sayyid Ali. Presently the Islam constitutes more than forty-five percent of the Ladakh's population, which continued to flourish in few parts of the area. Under the surviving Dynasty of Namgyal and its emperor, King Bhagan, Ladakh triumphed over many surrounding districts of China, Pakistan, and Nepal. After all the victorious years, the region came under the control of Mughals but was able to enjoy a certain amount of freedom. The state continued to take root to Leh, which is today one of the capitals of Ladakh; other being Kargil. Under the rule of Sikhs, it became a princely state and was merged with Jammu and Kashmir by silencing a violent outcry by Ladakhis. After some time it was also declared disputably as a Tibetan state by one of the Tibetan Communist leaders. Thus, after the 17th century, the region has faced a lot of violence over religious issues, riots over political ones, outcries for becoming a union territory and numerous militant wars, with its neighbors, China, and Pakistan, including the Sino-Indian War of 1962 and Kargil War of 1999.
In the 1960s, the international trade route of Ladakh started to shake as China closed the paths between Central Asia and Tibet. From then the region has remained highly dependent on its tourism industry to grow. Thus, along with tourism, treks in Ladakh India became an increasingly trending adventure sport for the locals, natives, and foreign travelers. Although an important profession of the region is trading, trekking in Ladakh has turned to be the central focus of the Indian Government in the whole state since 1974 because the similar occupation in the conflicted Kashmir has been affecting the whole economy of the region and the nation itself. Ladakh is comparatively a more secluded, silent and peaceful region. Today trekking, hiking, and trips in Ladakh contribute to the fifty-percent of region's GNP. Mostly experiencing snowfall, the region has atypical kind of climate in recent years, with melting glaciers, floods, and various rain patterns. These are connected to the global concerns and thus remains one of the central issues of not only the world but a challenging climb for the local uplanders and remotely visiting mountaineers too. In summers the temperature at ranges is between 3 to 35-degree Celsius but during winters it can go to -20 to -35 degrees. Separate from the whole country are Dras, Zanskar and Suru valley, which remain heavily snow-laden for almost more than half a year. Zanskar river gets frozen during the winter season and Chadar Trek can be best enjoyed at that time, which is actually a trek through this frozen terrain.
Geographically, the modern-day area of Ladakh is outwardly or physically settled at 9,800 ft above the sea level and extends its area from the Himalayan Ranges to the Kunlun Ranges. It also includes the Indus river and Indus Valley. The Greater Himalayan ranges are of moderate altitudes near ranges around 18,050 ft, further expanding in the southern-eastern parts towards the Nun-Kun crowns, to 23,000 ft Suru and Zanskar valleys consisting of the there ranges soaring to 14,400 ft at Pensi-la, which is also a gateway for Zanskar highlands. Suru Valley's only town is Kargil, which is one of the most notable ones too for Ladakh, due to its historical significance. It is distanced at more than 200 kilometers from the other prominent territories of Srinagar and Leh. Zanskar valley is between the gorgeous Lungnak and Stod brooks. Almost all these important regions undergo heavy snowfall. Indus River is close to Leh, Shey, Basgoand, and Tingmosgang. Indo-Pak war of 1947, divided this holy river too and Hindu culture revere only that part of Indus now which flows splendidly on Ladakh terrains. Walking down towards the Karakoram ranges of Ladakh- On the east of Karakoram ranges, there is Siachen Glacier, which is also the second-longest in the world's non-polar domains. Karakoram's relaxing waterfalls separate and form a natural border between India and China. The ranges that are inside the Indian borders are also venerated by the Hindus. Saser Kangri is the highest point of Saser Muztagh in the eastern lower ranges of Karakoram.
A few of the most cherished points which are often highlighted by the tourists and professionals are, the Pangong range's which remain greatly glaciated at the peak (22,000 ft). They are in parallel with the Ladakh mountains. Nubra, comprising of Shayok and Nubra valley's, Karakoram ranges, Apsarasas Group Point at 23,770 ft having the massifs of Nubra-Siachen line, Mamostong Kangri at 24,692 ft simultaneously with the Teram Kangri Group at 24,488 ft and further Singhi Kangri at 23,629 ft. Kunlun is in the north of Karakoram and is all the significant spots of the Ladakh area. Ladakh, Karakoram, and Kunlun mountain belts make a threefold natural defense wall between Central Asia at East and Ladakh's Leh.
We at Trekmunk provide the expeditions to all the best treks in Ladakh, major valleys, and also lakes of the beautiful state. Most of these mountaineering trips will take a maximum of 13 days and a minimum of 6 days to get completed. Almost all of these trekking journeys will be between the spectrum of moderate to very difficult. The temperature will remain on a 'plus' scale between 15 to 35 degrees in the morning and sunny days but will drop to -20 to -30 degrees at night. All the trekking peaks in Ladakh demands a lot of acclimatizing. Of all the trails that we provide, the Leh Ladakh Treks are the most famous ones. All these passes are alpine and could be profoundly life-changing for many passionate ones when done solo or in a group.